Hiya folks! Ring in the Fall season with a visit to the North City Farmers' Market this Saturday!
We hope you can join us this Saturday for a great day at the market! Our usual vendors will be back, including but certainly not limited to: New Roots Urban Farm, Homegrown, Zee Bee Market, El Chico Bakery, Old North Grocery Co-op, 13th St. Community Garden, and much, much more!
Additionally, we have two, count them, TWO exciting performances scheduled for ya! Starting at 9:30am the Dave Shogren Duo will be performing live. You might have caught these guys performing at this year's Old North House and Community Tour. They put on quite a show! Then, at 11am we will have a dance performance by the Ames Tops Hats, a student group from
Ames School of Visual and Performing Arts.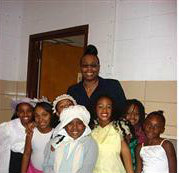 Ms. Prince and Dancers from Ames VPA
Hope to see you on Saturday!